At the end of today's Asian session, WTI crude oil broke through the psychologically important support level of 26.00, updating the 4-year low.
At the beginning of the European session on Wednesday, WTI oil was traded near $25.30 a barrel, the new local low since February 2016. This is 295% below the local maximum of October 2018, when WTI crude oil was traded near the level of 76.80 dollars per barrel. Over the past 3 incomplete months, WTI crude oil has fallen in price by 235%, collapsing from 61.25.
The aggravating investor pessimism associated with the coronavirus pandemic is pushing global stock indices and commodity prices, including oil, towards multi-year lows.
According to media reports, Saudi Aramco (SE:2222) confirmed the intention of Saudi Arabia to increase production to a maximum level of 12 million barrels per day. Last week, Saudi Arabia offered buyers from Europe some grades of oil at a price of $25 per barrel. An increase in production a week earlier was also reported in Kuwait and Iraq. Russia also intends to increase oil production from April, when the deal between Russia and OPEC finally ceases to operate, Bloomberg reported.
Most likely, oil market participants are selling oil futures, given in quotes the upcoming sharp increase in supply. It is possible that oil may continue to decline until the price "finds" new levels of support.
Today, oil market participants will pay attention to the publication (at 14:30 GMT) of the weekly data of the Energy Information Administration (EIA) of the US Department of Energy. The data is expected to indicate an increase of 3.256 mln barrels of oil in the US last week after an increase of 7.664 mln barrels in the previous weekly reporting period. This will only increase pressure on oil quotes.
A stronger dollar is also a negative factor for oil prices.
The DXY dollar index, which reflects the value of the US dollar against a basket of 6 other major currencies, is at 100.15 in the first half of today's trading day, near an almost 3-year high.
A strong negative impulse prevails, pushing oil quotes down. In the same time, the most cautious investors are likely to prefer to stay out of the heavily oversold market for now. But for those who want to take a chance, as always – trading recommendations:
Sell by market. Stop-Loss 34.10. Take-Profit 25.00, 24.00, 23.00, 20.00
Buy Stop 34.10. Stop-Loss 24.90. Take-Profit 36.20, 42.15, 43.00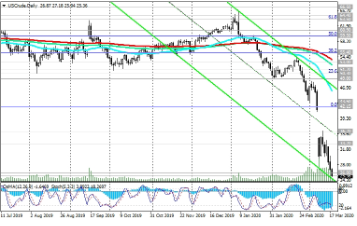 WTI-Daily